About RBP
We're built around the belief that the bicycle is the world's greatest, most utilized mode of transportation and that every individual, regardless of age, gender, race, or class has a right to afford, maintain, and enjoy one.
Our Mission
Reno Bike Project (RBP) is a 501(c)(3) non-profit community bicycle shop and resource, which advocates for a sustainable cycling community through education, collaboration, and accessibility for everyone in the Truckee Meadows.
How we're working towards a sustainable cycling community:
Access
Making cycling more accessible to the public through recycling and recirculation of used bikes into the community at affordable prices.
Education
Encouraging self-sufficiency by holding bike mechanics workshops and by providing a space for community members to repair their own bicycles rather than incur maintenance costs.
Events
Encouraging bicycle activism by promoting and producing cycling related events for a variety of audiences.
Advocacy
Advocating for cycling rights and cycling growth in the Truckee Meadows by working with public officials and other organizations that are key players in transportation planning.
Community
Complementing other local groups to encourage youth safety and cycling-related arts and culture, and contributing to Reno's continual growth as a diverse and vibrant community.
Flexibility
Keeping an open mind to all cycling needs and ideas and helping to facilitate positive growth.
Noah Chubb-Silverman
A native of Reno, Nevada, Noah Chubb-Silverman has been an avid bicyclist for most of his life, majorly influenced by competitive mountain biking and cycling since the age of 15. In 2001 he moved to Bellingham, Washington and it was there that he first became acquainted with a community bike shop named The Hub. Working as a volunteer at this shop while attending Western Washington University, he saw the impact that a small group of staff and volunteers can make towards helping people get onto bicycles. After graduating in 2005 with a degree in Industrial Technology, Noah moved back to Reno and drew from his experience in Washington to start the Reno Bike Project in October of 2006. He works hard to develop every aspect of the organization.
Joseph "Kyle" Kozar
Joseph "Kyle" Kozar graduated with distinction from the University of Nevada, Reno in 2006 with a dual B.A. in Journalism and Spanish. A native of Reno, Kyle has been an avid cyclist for over a decade and founded Reno Bike Project in October 2006. Since RBP's inception, he has undergone additional business training and worked to improve every aspect of the organization from writing the initial business proposal to program development to branding and public exposure. In 2010 Kyle moved to New York City to study urban planning at the Pratt Institute, but he still makes time to help out whenever we need him.
Kurstin Graham
Kurstin was born in Oregon but grew up abroad, giving him a diverse set of skills and some really cool stories. Kurstin has been in Reno since the early 2000's, and has worked at several bike shops in the area. His knowledge in shop management and mechanical skills made him a natural fit at RBP. When not working at RBP, Kurstin is active with the Poedunks, mining Peavine's singletrack, or rocking out on some of the local trails.
Allen (Ray) Hill
Also known as BicycleRay. Forever in love with bikes. Ray has been passionate about bikes and anything cycling related his entire life. He has been repairing bikes for forty years, twenty at a local bike shop. He did a lot of cross country mountain biking and racing, and is still known to do jumps and tricks. Ray has often volunteered at cycling events helping people with their bikes and mobile repair. He enjoys teaching others how to maintain and repair their bikes so that they will gain confidence, independence and hopefully consider biking more often.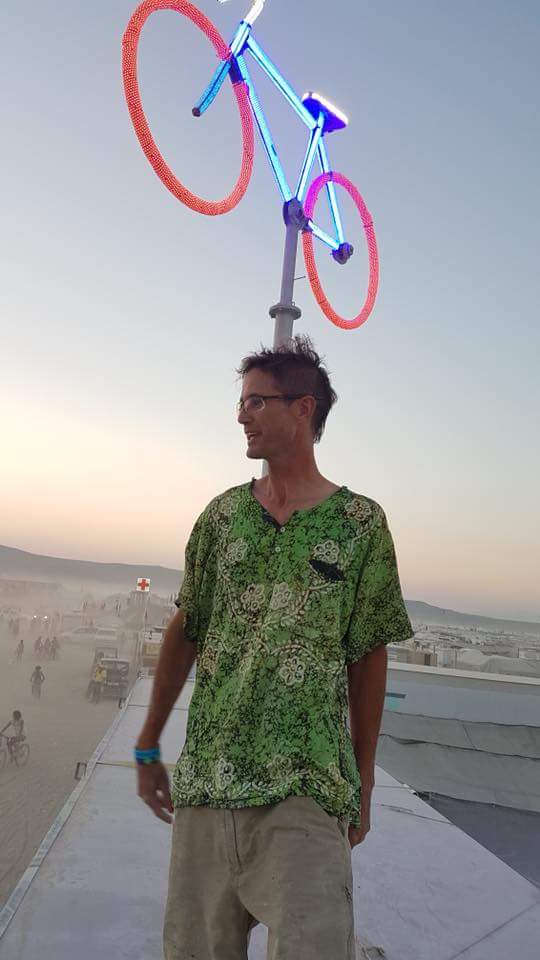 Chai Montgomery
Reborn in Athens, Georgia in 1994 when two folks pedaled into town from Chapel Hill, North Carolina and camped in his backyard. They told stories of their cycling journeys and from that point on it's been 100% bicycle life: touring, road and cross country mountain races, wrenching, commuting, working as a bike messenger for 10 years, and going to bicycle mechanic and frame making schools. Chai bought his first car at the age of 48, to be able to get to trail heads better. He moved to Sparks in December 2017 and is enjoying all the sunshine that the desert life provides on daily bike rides.
Shay Daylami
Shay was born and raised in Reno-Sparks and is proud to call the Truckee Meadows their home. Besides bicycles, Shay is also passionate about words and language and earned a degree in linguistics from UNR in 2016. While they won't correct your grammar, they might critique your cable routing.
Silvana Reyes Fuentes
Silvana was born and raised in Chile. She is very passionate about healthy living, education, and serving at-risk populations. She has a bachelor's degree in education from her home country and also earned a BS in Community Health Sciences at UNR. She enjoys riding her bike with her family to explore the local bike trails around Tahoe and Concepcion (Chile), and also uses her bike for commuting. Silvana believes that everybody regardless of race/income/gender/age should have access to cycling as it contributes to people's physical health, wellness and has a positive environmental impact on our planet.
Board Leadership: David Fiore — President, Precious Hall — Secretary, Chet Burton — Treasurer
Board Directors: Joseph Brandl, Scott Gibson, Matt Hudson, Cassandra Joseph, Ron Marston
David Fiore, Board President
David joined the Reno Bike Project Board of Directors in 2014 and was elected as Board President in 2018. He is a life-long cyclist and became involved with the RBP because of his love of cycling and his commitment as a physician to community health. David believes that cycling provides individuals with a great way to maintain physical and emotional health and provides the community with a sustainable means of transportation and enjoyment. Personally, David enjoys both road and mountain biking and is fortunate to be able to bike commute to work most days He knows he's extremely fortunate to live in the Truckee Meadows where there is ample opportunity for local rides, whether it's riding out to South Meadows or Verdi on pavement, or hitting the local mountain bike trails on Peavine. When he has a bit more time, he enjoys the limitless mountain biking opportunities around Tahoe and the magnificent Sierra Passes (especially Sonora Pass) for longer rides. Looking forward, his goal is to help lead the RBP towards continued service as it provides an accessible and low cost cycling resource for the community.
Scott Gibson
Scott is an engineering project manager at the RTC (Regional Transportation Commision) and has managed projects such as the recently completed California/Keystone Complete Street Project, the Green Bike Stamp Project, and the Pyramid/McCarran Intersection Improvement Project. He also oversees the RTC's preventive maintenance slurry seal program which provides a blank canvas of opportunities for creating more complete and safer streets and improving conditions for people who ride bikes as well as extending the life of the region's roads. Scott has made Reno his home since 1995. Since arriving in Reno, Scott has been active in the community both professionally and privately. Scott is an avid cyclist and brings to his work an awareness of the need to improve the quality and safety of our community's cycling infrastructure. Scott is proud to serve on the Board of the Reno Bike Project and support its efforts to promote bicycles as a critical component of mobility in our community.
Precious Hall, Secretary
Precious is an East Coast girl, living in the West. She was born and raised in Baltimore, Maryland, but has worked and lived in Nevada since 2012. She came to Reno as an Instructor of Political Science at Truckee Meadows Community College and embraces the role of community both inside and outside of the classroom. Since becoming a part of the Board in 2017, she has seen and witnessed the great work of the Reno Bike Project and continues to be excited about its position in the community.
Ron Marston
Ron is an avid cyclist and former road racer with over 40 years of riding experience in the Reno Sparks/Washoe Valley area. He's logged more than 60,000 miles in the saddle. Ron is the Chair of the Visual and Performing Arts Department at TMCC and teaches graphic design, print production, screen printing, web design and the Adobe Creative Suite. He's helped students at the community college further their skills and careers for 20 years, and would like to help the cycling community through bicycle advocacy and by supporting the mission of the RBP.
Joseph Brandl
Joe Brandl is a cardiac surgeon who was born in Northern Minnesota. His first experience with a bicycle was at age 10, when he was drafted into a Little League team that was 5 miles from home, and his parents bought him a five speed Schwinn Bicycle. The bike was way too big for him, but his parents thought he could grow into it, so he rode it every day with his hips swinging side to side to reach the pedals. He rode it to practice with a glove on his handlebars, a bat on his shoulder, and a grin on his face. It gave him the freedom to go anywhere he wanted to go. That's when Joe fell in love with the bicycle. At age 16 he got his drivers license and that bicycle collected dust... At age 45 he rediscovered the love of riding--there's no better way to gain fitness than through riding a bicycle-- easy on the body and great for the heart. Joe's core belief is: get a bicycle, it'll change your life.
Matt Hudson
Matt is an avid lifelong cyclist. He believes we would all be happier and better off if we spent more time in the saddle. He has 35 years experience as a Rigger, Rope Access Technician, and Businessman. Matt is currently the Director of Safety and Training for Rhino Staging and the President of Rhino Access. He is a past President of the Society of Professional Rope Access Technicians. He is a Certified Safety Professional, an ETCP Certified Professional Rigger, and a SPRAT Level 3 Rope Access Technician & Evaluator. He has earned Master's Degrees in Business Administration and Experiential Education. He just finished a bucket list tour of the USA, riding from San Francisco to New York City.
Chet Burton, Treasurer
Chester (Chet) Burton is serving on his second stint as Treasurer and Board member of the Reno Bike project. A finance professional and retired Navy Commander with over 40 years of experience in a variety of fields including working at several small businesses, a large corporation and the Nevada System of Higher Education. Highlights of his career include serving as President of Western Nevada College and heading up corporate finance at IGT Corporation. A native of northern Wisconsin, Chet has traveled and biked all over the world while serving in the Navy. You can catch Chet riding on the Peavine mountain bike trails, riding the roads on the Verdi loop and getting around Reno on his e-bike.
Cassandra Joseph
Cassandra Joseph is an outdoor enthusiast who enjoys adventure. Upon graduation from college, she was a travel writer for the "Berkeley Guides" in Mexico, where she covered vast territory by relying heavily on friendly locals for tips on affordable off-the-beaten-track favorites. Cassandra was bit by the travel bug. Several years later, she departed for Zimbabwe to work as a raft guide on the Zambezi River and then traveled across the African continent for the next several months. Cassandra continues to travel in her current position as General Counsel for Nevada Copper Inc., but she mostly enjoys mountain biking on the wonderful trails around the Tahoe area and contributing her time to community based organizations such as the Reno Bike Project.
Supporters
There's something about the bicycle that has, from its very beginnings, attracted an impressive mix of supporters. Today, the same eclectic mix of fans can be heard singing the praises of RBP, and for that we are forever grateful.
Better Together
RPB is made up of far more than its staff and board and we are lucky to have volunteers of all shapes and sizes who give much more than their time and money. Our supporters give their skills, expertise, passions, a little space on their soap box, specialized services and anything else we need to keep the gears running smoothly. RBP is lucky and grateful to have so much support from the community and the list below is by no means comprehensive however we would like to thank the following groups and individuals for their support.
Community
Biggest Little Trail Stewardship
City of Reno
Craft Wine & Beer
Hand Up Homes for Youth
The Holland Project
KWNK
Nevada Ink
Nevada Bicycle Coalition
Patagonia
Reno Housing Authority
Reno Type
Tahoe Trail Bar
Truckee Meadows Bike Alliance
Truckee Meadows Community College
Safe Routes to School
Regional Transportation Commission
Quickspace
Grantors
Charles H Stout Foundation
City of Reno
Clif Bar Family Foundation
Community Foundation of Western Nevada
Edna B. & Bruno Benna Foundation
E L Cord Foundation
Gannett Foundation
Hart Foundation
John Ben Snow Foundation
Marie Crowley Foundation
New Belgium Brewing
Nevada Department of Transportation
Renown
Robert R. Banks Foundation
Roxie & Azad Joseph Foundation
Trust The Keyser Foundation
Washoe County Health District
William Pennington Foundation
Individuals
Cindy Becher
David D. Stockman
Donna Lunne Buchhholz
Jerri Lee Campbell
Joseph Stuart
Jordan Ames
The Heidemarie Rochlin Trust
Scott Gibson
Susan M Scarrit
Our Bicycle Friendly Business Members
Want to Support RBP?
When you become an RBP member you will be supporting our organization and providing a means for us to continue pursuing our goal of making the Truckee Meadows one of the greatest cycling communities in the county.
Become a Member
Community Programs
We're committed to creating a nationally recognized, cycling-friendly community. Outside of our community bike shop, RBP engages people in the Truckee Meadows in three key ways: Outreach/Advocacy, Education, and Events.