We are hiring! Click here
Noah Chubb-Silverman – Co-Founder, Executive Director
A native of Reno, Nevada, Noah Chubb-Silverman has been an avid bicyclist for most of his life, majorly influenced by competitive mountain biking and cycling since the age of 15. In 2001 he moved to Bellingham, Washington and it was there that he first became acquainted with a community bike shop named The Hub. Working as a volunteer at this shop while attending Western Washington University, he saw the impact that a small group of staff and volunteers can make towards helping people get onto bicycles. After graduating in 2005 with a degree in Industrial Technology, Noah moved back to Reno and drew from his experience in Washington to start the Reno Bike Project in October of 2006.  He works hard to develop every aspect of the organization.
Joseph "Kyle" Kozar – Co-Founder
Joseph "Kyle" Kozar graduated with distinction from the University of Nevada, Reno in 2006 with a dual B.A. in Journalism and Spanish. A native of Reno, Kyle has been an avid cyclist for over a decade and founded Reno Bike Project in October 2006. Since RBP's inception, he has undergone additional business training and worked to improve every aspect of the organization from writing the initial business proposal to program development to branding and public exposure. In 2010 Kyle moved to New York City to study urban planning at the Pratt Institute, but he still makes time to help out whenever we need him.
Bridget Tevnan – Youth Programs Coordinator
Bridget hails from New Hampshire, but has called Reno home since 2015, having fallen in love with the city from her bike saddle. With a background in environmental and garden education and a commitment to join others in eliminating institutionalized barriers to health, she's honored to roll with the RBP team. If she's not cycling with youth, she's farming. Bridget also enjoys hiking in the Sierra Nevada with a field guide in hand. When, after her first staff meeting, she knew exactly zero "fun facts" about her new coworkers, she thought, "Dang, I think I'm gonna like it here."
Jillian Keller – Adult Programs Coordinator
Jillian is a sixth generation Nevadan, but moved with her family to California at the age of 6, returning to Reno in 2018. She earned her B.A. in Politics from Willamette University and is currently working towards an M.B.A. from Temple University. After teaching bicycle maintenance to people with intellectual disabilities, Jillian witnessed the transformative potential of bicycle education. She can't wait to get more involved in Reno's already thriving local bike community and plan engaging events.
Kurstin Graham – Shop Manager
Kurstin was born in Oregon but grew up abroad, giving him a diverse set of skills and a some really cool stories. Kurstin has been in Reno since the early 2000's, and has worked at several bike shops in the area. His knowledge in shop management and mechanical skills made him a natural fit at RBP. When not working at RBP, Kurstin is active with the Poedunks, mining Peavine's singletrack, or rocking out on some of the local trails.
Allen (Ray) Hill – Mechanic Educator
Also known as Bicycleray. Forever in love with bikes.
Elijah Lyons – Mechanic Educator
Chai Montgomery – Mechanic Educator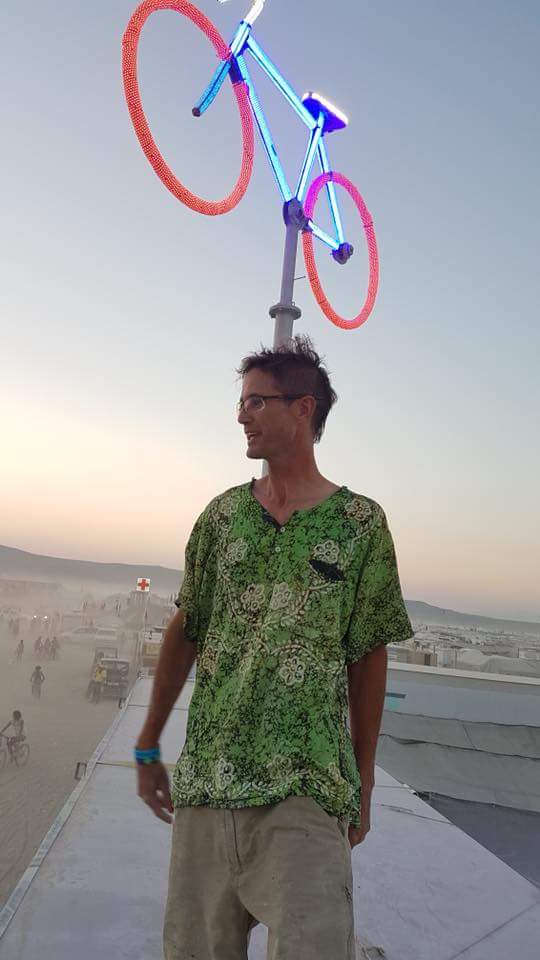 Reborn in Athens, Georgia in 1994 when two folks pedaled into town from Chapel Hill, North Carolina and camped in his backyard. They told stories of their cycling journeys and from that point on it's been 100% bicycle life: touring, road and cross country mountain races, wrenching, commuting, working as a bike messenger for 10 yrs, and going to bicycle mechanic and frame making schools. Chai bought his first car at 48, to be able to better get to trail heads. He moved to Sparks in December 2017 and is enjoying all the sunshine that desert life provides on daily bike rides.
Donavin Phelps – Mechanic Educator
Donavin relocated to Reno from Southern Utah, in 2012. He learned about Reno Bike Project and its volunteer opportunities when he came in for a bike tune-up. He volunteered over 300 hours and also completed RBP's FutureCycle Program in 2017 before being hired on. Aside from helping visitors to the shop with their bike needs, Donavin is also our resident expert on gaming, Magic: the Gathering, and Pokemon!
Andy Perkins – Mechanic Educator
Andy has been a friend of RBP for many years! He comes to us self-taught, from the school of wrenching on his own bikes. In addition, Andy earned a Linguistics degree from University of Nevada, Reno in 2007. Prior to joining our team, his career as a bartender spanned several local bars and other establishments which include Reno Public House and, currently, Beaujolais Bistro. Andy gets his kicks mountain biking (pictured) and, when there's powder in the mountains, snowboarding. He has a great golden retriever named Hatch.
Blake Nelson – Mechanic Educator
Blake was both born and raised here in Reno. He has grown to love this region through cycling, during the past four years. Blake is here to help, and will be glad to help you!
Liz Hummelt – Mechanic Educator
Growing tired of the Northern Virginia suburbs, Liz went to school at Montana State University in Bozeman, and has been working her way west ever since. After 3 years in Tahoe City she moved to Reno in August 2017. Wanting to get more into cycling, she signed up for the AIDS LifeCycle, biked from San Francisco to Los Angeles, and then came back and started volunteering at RBP. She loves snowboarding, wearing hats, and dark beer.
Dave Barto – Mechanic Educator
Dave relocated to Reno in July 2018 after living and working as a salmon biologist and safety manager in Southeast Alaska for 40 years. Since purchasing his first 10-speed bicycle in high school, he has been an enthusiastic commuter and completed numerous self-supported, multi-week cross-country-bicycle trips. Dave also brings his previous shop mechanic skills to RBP. After spending the majority of his life living and working in a temperate rainforest, he is looking forward to enjoying the near constant sunshine in the high desert of northern Nevada, with great riding opportunities.
Owen Lattin – Mechanic Educator
Owen was raised in northern Nevada and relocated to Reno in 2019. He enjoys playing jazz and riding impractical bikes. 
Corby Cobb – Mechanic Educator
Corby grew up on a ranch in Southern Wyoming and earned a BS in Mechanical Engineering from the University of Wyoming. Corby moved to Gardnerville in 2011 and then to Reno in 2019.  He spends most of his time in the Sierra Nevada, mountain biking or grinding gravel. He can also be found at cyclocross races, typically taking hand-ups.